Davie Air Conditioning Contractors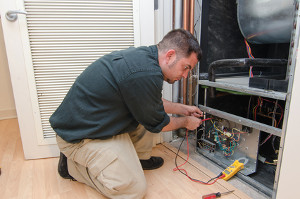 Throughout most of the year in Davie, the weather is filled with heat and humidity, which is why your air conditioner is such a an important part of your home. When the outdoor temperatures rise to 90° F and higher, having a well-functioning air conditioner is about more than just keeping your home comfortable: it's also about keeping your family safe and healthy. At Efficient Air & Heating, our Davie air conditioning professionals understand how important your cooling system is to your home and your family, so we do whatever it takes to provide you with the highest quality Air Conditioning Contractor services possible.
We've been working in the Davie area since 1993, and over the years we've developed a strong reputation among homeowners in the area as the most dependable and trusted HVAC contractors. That reputations is based on our commitment to providing every one of our clients with quality workmanship and professional customer service. Whether you need regular maintenance for your AC, intensive repairs, or indoor air quality services, we'll do everything we can to make sure that you're completely satisfied with all of the work that we provide.
Give us a call today to request service, or to ask any questions you have about the services we provide, and we'll be looking forward to working with you.